has been my orthopaedic partner since the beginning of 2010 and he works with me every day of the week. Like me, Dr Dresbach is an orthopaedist, sports physician, experienced chiropractor and acupuncturist. He completed his specialist medical training in the orthopaedic department of the Troisdorf Hospital under Prof. Franz Walter Koch.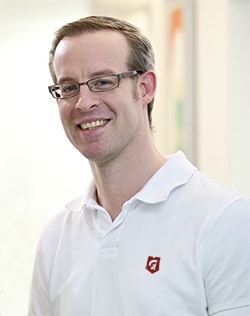 His focus is on the treatment of spinal disorders and the entire spectrum of joint diseases and sports traumatology.
He then worked as a specialist in the outpatient rehabilitation facility of Sieg-Reha Hennef with a focus on the post-treatment of patients after endoprosthesis implants, spinal conditions and operations, as well as after accidents, especially fracture restorations.
He has received extensive training in acupuncture, pain therapy and basic psychosomatic care.
Like me, he is a 'Rhinelander' and is well-liked and respected, with his straightforward, friendly and open manner, as well as his professional competence.
Kerstin Merks, Janina Weber and Nicole Brauneck are jointly responsible for patient registration, assistance and care in all matters. They will be happy to solve almost any problem you may have. We always work together as a team. This results in transparency and an atmosphere of trust and security.