Dr. Jürgen Römer was born in Bonn in 1963 and graduated from the Carl von Ossietzky grammar school in 1982. He then joined the sports training group of the German Air Force in Cologne-Wahn, played national league fistball with Bayer Leverkusen (European Cup winners) and was also a long-time volleyball player for the Red-White team in Bonn-Röttgen.
After studying Medicine in Pisa, Bochum, Bonn and St. Gallen and sport science at the German Sport University Cologne, he became a supervising physician at the Olympic training centre in Dortmund for the Figure Skating and Ice Dance section and the German fistball junior national team. Jürgen Römer is also a licensed ski and tennis instructor.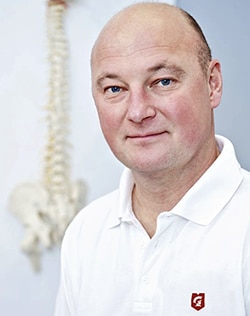 He completed further training in accident, abdominal and hand surgery at the Maltese Hospital in Bonn, in heart and thorax surgery at the Heart Centre in Frankfurt, and in general orthopaedics at St Vincenz Hospital in Constance, with a focus on endoprosthetics, at the Cantonal Hospital in Münsterlingen (Switzerland) and St Gallen, at the Clinic for Sports Injuries of Sport Aid NRW-Hellersen, with a main focus on arthroscopic joint surgery and sport traumatology, as well as at the Clinic for Conservative Orthopaedics, Sports Medicine and Rehabilitation/Spinal Centre-Hellersen.
He worked as a specialist in the Klinik am Ring in Cologne with Dr. Peter Schäferhoff (team doctor for FC Cologne and the Cologne Sharks) and as a senior physician in the PAN Clinic, Cologne with R. Strümper. Dr. Jürgen Römer holds a doctorate from the Orthopaedic University Clinic in Bonn.
As a registered orthopaedist in Bad Godesberg, he is now making use of his experience to devote himself to non-surgical (conservative) orthopaedics and sports medicine across its whole spectrum, including the care of competitive athletes and professional sportsmen and women, recreational athletes, senior athletes and children.
He makes use of his now extensive medical interdisciplinary and operative network for the benefit of his patients.
Dr. Jürgen Römer is an enthusiastic husband and father of four children, sailor, golfer, skier and cyclist
Member of the Elferrat (council of eleven) of the Bonn city soldiers corps
German – English – French – Italian – sign language supporting speech – Rhineland dialect