Practice for conservative orthopaedics and sports medicine in Bonn
Dear patient,
Our orthopaedic practice in Bonn is situated in Rüngsdorf in the beautiful district of Bad Godesberg. It has ground-level and wheelchair access and is easily accessible by car. You can easily find a parking space directly in front of the practice as well as in the adjoining side streets. If you travel via public transport, such as bus, train or underground (U-Bahn), you will be within 5 to 7 minutes' walking distance of the practice (see our directions). The practice is located at Karl-Finkelnburg-Strasse 19 and is housed in a residential complex called Villa Wilhelma. Karl Finkelnburg was a professor of hygiene and psychiatry at the University of Bonn in the 19th century and died in Godesberg in 1896.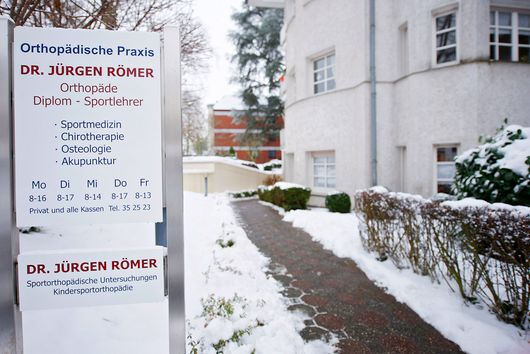 Magnetic Resonance Imaging (MRI)
Appointments and further details can be obtained directly during your treatment.